Zach did a lot of reading. When he read something that he thought was worthwhile, he made a note of the quote. A year ago I could have told you where his quote files were but now I'd have to look around a bit.
I do have a sheet of paper on my wall with some quotes on it. I don't remember how it came to be printed. Was it in his effects or did I find it in a file and print it here? It doesn't have his name on it but I know it came from him. In front of the paper, tacked on the wall, are two photos, taken on the same day. Here is one: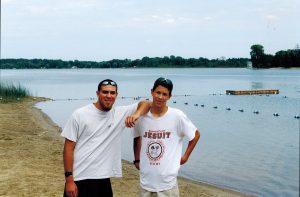 To see the other one you'll have to go here.
Anyway, here are the quotes. Only one is attributed.
A great person attracts great people and knows how to hold them together.
— Goethe

We are not what we know but what we are willing to learn.

The art of teaching is the art of assisting discovery.

People seem not to see that their opinion of the world is also a confession of their character.

We're not really taught how to recreate constructively. We need to do more than find diversions; we need to restore and expand ourselves. Our idea of relaxing is all too often to plop down in front of the television and let its pandering idiocy liquify our brains. Shutting off the thought process is not rejuvenating; the mind is like a car battery – it recharges by running . . . A playful mind is inquisitive, and learning is fun. If you indulge your natural curiosity and retain a sense of fun in new experience, I think you'll find it functions as a sort of shock absorber for the bumpy road ahead.

To laugh often and much; to win the respect of intelligent people and the affection of children; to earn the appreciation of honest critics and endure the betrayal of false friends; to appreciate beauty; to find the best in others; to leave the world a bit better, whether by a healthy child, a garden patch or a redeemed social condition; to know even one life has breathed easier because you have lived. This is to have succeeded.