After getting all excited writing and feeling pretty tired at 10:30 last night, I went to bed without taking my usual sleeping pill (generic Benadryl OTC). 3 am came and I woke up and that was it. I was tossing and turning until I gave up about 15 minutes ago (6 am).
But partly what I was thinking about was the lovely post Ashley did on Facebook about Jeremy's birthday. I thought this photo represented Jeremy at his happiest: walking into the forest with his daughter.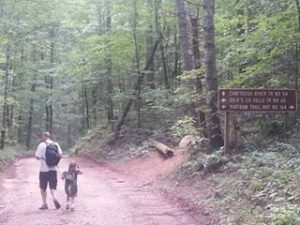 This, on the other hand, is a vision of this girl at age 25! Try to ignore the foot in the foreground. She looks so sophisticated here! Thinking deep thoughts no doubt. Shades of things to come!