Does one call it a 'sculpture'? Or a 'display'? Or a memorial?
Whatever you call it, I found it very moving and wrote about it last week here. I promised I would take a better picture so here it is: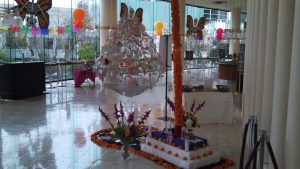 After the concert day Saturday there were a lot more names on it.
I don't know what the little flag things are called but they are beautiful. I filched some small ones yesterday and put them in my own little memorial: