Dad died yesterday morning. He hadn't eaten nor taken water for several days so it was not unexpected. At some level, we are all relieved. The phrase I used on FaceBook was 'His torment is over.'
'Torment' might be a bit overstated. He never complained of pain, although in truth his ability to communicate was pretty much entirely gone. He would sometimes react to our attempts to move him by making a grunt of pain. Towards the end of last week he was not sleeping well and twitching a lot.
'Torment' could also be applied to Mom's experience. It was bad enough to be losing her husband of nearly 66 years but her home was being invaded by not only her children but her children's spouses, hospice nurses and technicians and other helpers and visitors. She will have to endure that for a while longer – ten of us were there yesterday – but hopefully she will be able to sleep better. We're back to the dilemma we had with Dad: how do we respect their independence yet give them help when needed? This is especially difficult when they say they don't want the help.
So, we muddle through as always. We do it for love, which helps.
Mom called me at about 5 with the news. The phone ringing woke me from a deep sleep and my original reaction was irritation. I had been getting a lot of sales calls lately so that was my first thought. When I saw 'Mom' on the phone, though, I knew what it was about.
We got down to Santa Clara about 7. Tom and Mary Lou had been staying over so they had been with Mom. The hospice nurse had come over right away and done some minimal clean up. He was lying in the bed as he had been but he was still. His mouth had a slight smile, we all thought.
Teresa and Jane got there a little later. Teresa wanted to clean him more thoroughly so she did that. Mom and Dad had made arrangements long ago with Trident for cremation and they were coming at ten so we all took some time before that for reflection and community.
The Trident people were respectful but professional. They were in and out of the house in less than ten minutes. We were left with memories only.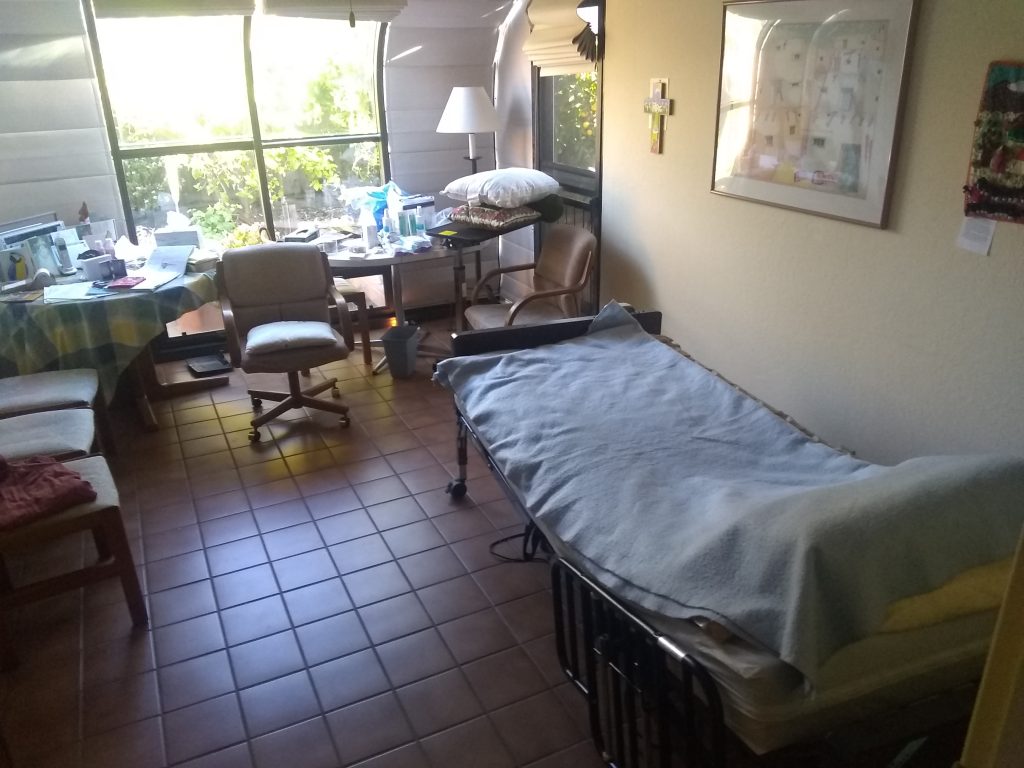 So the rest of the day was about memories. Mary got there about 1. Julian and Lisa came. Sarah came. We all sat around and ate and reminisced. We talked about funeral arrangements and other quotidian things. There were some tears but a lot of laughter.