I have my screen saver on my main computer set to show random pictures from my pictures folders. When I walk back to that machine after I've been gone a few minutes, the screen saver is playing old pictures. Sometimes I watch them scroll by for a bit. Sometimes I even hit the cursor key to scroll back one or two.
Today there was a picture that I want to share. One of the things I always look forward to when visiting Rosalie is tickling. Ashley has gotten some good pictures more recently of us laughing uproariously.
Here's one from last November: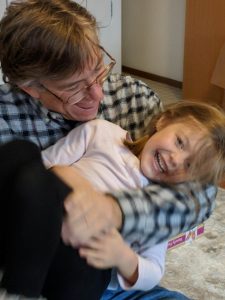 The one that came up on the screen saver today was this one, from Rosalie's visit to California in July of 2014. I was keeping my hair short then, but the rest was much the same: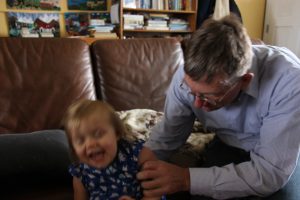 The pictures from my camera are numbered sequentially so I know this came from my camera. Who took the picture, then? Ashley never uses my camera. Then I saw another picture from the same day and remembered that Sarah was there that day. She took the picture!
Here's how I know. This is still one of my all-time favorites, taken on the swing in Teresa's backyard July 4th, 2014.