Last night as she was about to leave the reception, Ashley asked me what was the best moment of my day. I really couldn't think of just one. It was all fantastic – in every sense of the word. In the past couple of weeks, I had used the analogy of the roller coaster ratcheting up the incline before the first drop. Well, yesterday was the drop.
And, like a roller coaster ride, it seemed like it was over before I knew it.
I told her the moment when she and Jeremy pulled into the parking lot at Davies Hall was big. It meant that they were safely there. They were the last of my posse to arrive.
But there were so many more: standing under that dome on that staircase, looking into the soulful eyes of Willie Brown as he spoke those solemn words of commitment; having Ashley tell me that the song the band was playing was the song that she and Zach sang at her wedding reception using kitchen utensils as microphones; hearing the trio start as we were still down at the bottom of the stairs taking pictures; having so many people come up to me to say how happy I looked an how happy they were for me; it was all great.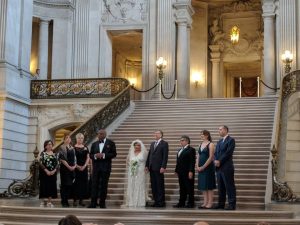 (Thanks to Lolly Lewis for this photo.)
This morning I remembered a moment that I could honestly say was the best. At the reception, it was pretty chaotic. People came in bit by bit and there was a lot of milling around while they found their seats. And of course everyone wanted to talk to us. We hadn't set up a reception line. Then I started to hear people say they were hungry and when was the food coming out. This was near to 7:30 and the food was just then starting to come out.
I went and started filling a plate for Dad but Sepi came to me and said, wait, there must be a toast. then there followed several minutes of confusion while we looked for the champagne, the best man, the band. I got a little grumpy about then because I just wanted to let people eat.
Finally it was decided that we could do the best man toast later. All I had to do was welcome everyone and say that the food was ready. I can do that.
So I tapped on the glasses and the room started to settle down. I don't remember if I spoke first to welcome everyone but there was cheering and I raised my arms and pointed to the ring on my finger and the cheering intensified.
That was the moment.
I spoke a little bit and Sepi said some nice things, but soon everyone was digging in to the excellent food and the party moved into high gear.