It's rare that I play a CD in its entirety over and over but I've been doing that the last couple of days with a new CD I got by Mariachi Flor de Toloache. This morning the song Besame Mucho from the CD has been stuck in my head. I spent some time looking up the history of the song and some other versions on YouTube. I was of course familiar with The Beatles version but this is my new favorite.
Mariachi Flor de Toloache was the opening band in the Symphony's Dia de los Muertos concert a couple of weeks ago. I thought I had given them a shout out in this blog but I couldn't find it. They were awesome! Nice people and great music. It's in the mariachi tradition but different. The lead singer, Shae Fiol, has an amazing instrument that I happened to get an up close taste of during rehearsal when I had to go out to adjust a mic stand. Check them out: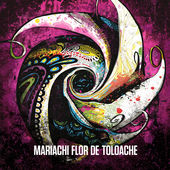 The headliner was a band from LA called La Santa Cecelia. They were good too but they didn't grab me the same way. I bought a couple of their CDs but haven't given them the full listening treatment yet. They seem to be more from the Tex-Mex tradition with the accordion and electric bass.