Mom had given me Dad's overnight kit several months ago. At the time, I was getting ready for my Europe trip and thought I might use it instead of the one I had already. It languished in a corner until the other day, when I finally took it out and looked through it.
Pretty much everything in there was unusable but it did give me a glimpse into Dad's way of thinking. There were 35 mm film canisters with various pills (all OTC, cough drops and pain relievers, no prescriptions). A couple of razors, one electric shaver and one safety blade type. No shaving cream and no Old Spice. Band Aids. A little sewing kit. A shoehorn. And a styptic pencil.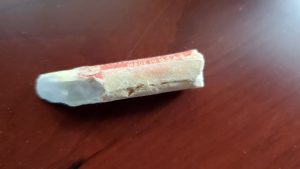 I knew  what it was as soon as I saw it but I couldn't believe that he still had one. More amazingly, I think it was the same one that he used with me when I was learning to shave! There were a lot of cuts in those early days.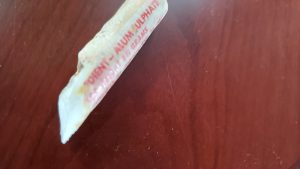 Alum Sulphate, it says. Since, after 50 years, I thought I might have mis-remembered it, I did an Internet search and found that not only did I remember it right, they are still available! Wow! I don't know if I'll have the courage to actually use it, but I'll keep it around for a while and see.
Dear old Dad!