Sick. I've been sick. I'm pretty sure it's just a head cold, but it has kept me low for almost a whole week now. Sunday I wrote in a post that I had a headache. That's not uncommon but Monday it came back and it wouldn't go away throughout a nice Christmas Day at Mom and Dad's. Sarah had been at Jane's Sunday night decorating cookies so I went over and did some. Here are our results: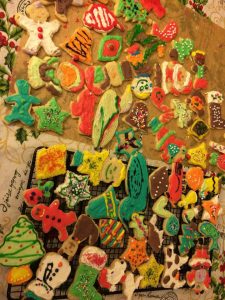 Sarah came and stayed at my place Sunday night. Monday it was the two of us plus Rose in my car going down to Santa Clara. Jane and Joe and Jack came down. Mary was already there since Saturday. Teresa was there until about 2 when she had to go to work. Julian and Lisa came down but they were sick and didn't stay long.
My headache never went away, despite some rather frenzied applications of medicine: ibuprofen, excedrin. maxalt – nothing worked. The next day I was torched. I stayed in bed pretty much all day and night. The headaches were under control but I was extremely tired. I did check my temperature but there was no fever. Wednesday I was going to go back down to Santa Clara and stay overnight but I knew I couldn't do that nor did I want to expose Mom and Dad. Jane called me and said she would drive me down just for a couple of hours. It was Dad's birthday. Jane got him to agree to walk over to the new visitor center at 'Apple Park'. That was nice. the weather was perfect.Cool but sunny.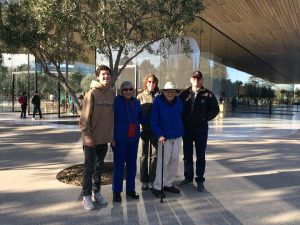 Yesterday I felt better and got out to do some grocery shopping. In the afternoon, I went to take a nap but actually felt pretty good so I got up. I still went to bed about 7 as I had every other night starting Tuesday. By now the fatigue wasn't so bad but the constant stuffiness in my head along with the coughing and runny nose. I take Afrin at night so I can breathe but try really hard not to take any decongestant during the daylight hours. Sometimes I think the Afrin works a little too well, creating a direct path for the cold air to blast through my sinuses to the back of my throat, where there is a tender spot from the post nasal drip.
Well, today I went to work and did ok. Luckily just an 8 hour day and no one was in the building but Tim W and me. Tim put up with my sniffles. I didn't get too close. Now it's almost 8 and I'm heading to bed.
One last thing. Mary got this picture of Dad on Christmas Day as he was taking all the torn up wrapping paper out to recycling. He's still got his sense of humor!