Whenever there are two deaths, I always seem to hear people say these things happen in threes, who will be next. I don't buy that. Things happen. Period. Humans being the supreme rationalizers that they (we) are, look for patterns in everything. Most of the time we find them. Are they really there? No comment.
The brother of a friend was found dead a couple of days ago. My friend asked that I not tell anyone just yet so I am camouflaging his identity. I'm also pretty sure that no one who might know them reads this blog. Anyway, the death was not related to Covid-19, as far as I know. I think alcohol was the main culprit but I may be rationalizing.
Both deaths were men in their 70s. I could argue that they both had lived decent lives and thus neither death is a tragedy. When my friend called me with the news he was pretty upset. I told him that even when we can see something coming, it can still be a shock when it actually happens.
Bud Oakley had had some serious health problems over the past few years. I hadn't been as close to him as I had been in the '90s and early 2000s. That's when Sarah and Zach were most active in Villa Sinfonia, the violin studio he ran with his wife, Lynn. Over the years, there were rehearsals and concerts and trips to Europe. For a while I created the concert programs for them. I never went on any of the tours but I did go to the summer workshop at Zephyr Point, Lake Tahoe several times.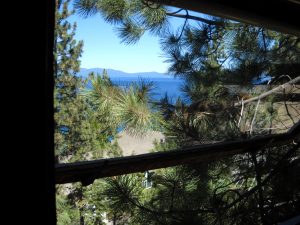 Other times Bud and Lynn let us stay in their house in South Lake Tahoe for weekend getaways. I'm sure we weren't the only ones they were so generous to.
It is a cliché that an organization is like a family. I heard a lot of this rhetoric from Symphony leadership this past three months. I was not convinced. Bud and Lynn's organization was like a family. They did a lot of smart things from a business perspective but it was all grounded in a love for music and teaching. I always felt that the growth of the studio was due not to some hard nosed business plan but from the organic needs of the people they served.
Bud was a demanding leader but he gave of himself without reserve.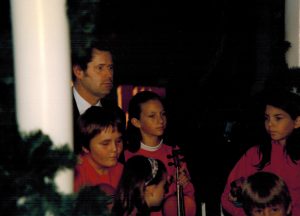 This picture is from a Christmas concert at Ghirardelli Square in 1995. It was a regular thing for a few years. Bud was surely thinking about the music that they were about to play but there were probably kids not yet there he was thinking about. A good man. He will be missed.