Day 54 yesterday. Sepi and I went to Santa Clara yesterday. We saw Mom for the first time since early March. No touching, but we sat in the patio and chatted for a while. I brought some salt for the water softener.
After we got home I was spinning through FaceBook and saw that it was Noah's birthday . . .
11 years old and he's still the spitting image of Zach, at least to my eyes.
And once again, I am so pleased that he has a stable home environment to grow up in. Ally and Dave are terrific parents.
Well, the whole thing prompted some pillow talk with Sepi. She didn't remember the story of how we found out about Noah and how Ally and Dave brought him up to Michigan to meet the family. What a tremendous thing that was! I believe I've documented here how difficult it was for me to accept him for what he was.
I still love Dave's simple comment: 'I'm the Dad.'
So this morning the power went out and I couldn't work on the big computer as I had been planning so I picked up the iPad. This is the one that had belonged to Zach and still has some foibles related to his ownership. It still has access to his Google Drive even though I do not have the password.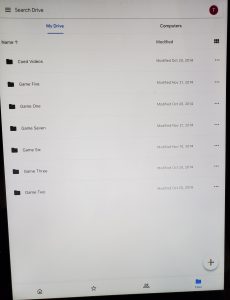 It isn't his regular Google Drive account. I got all the stuff off of that early on. This one – I think – was for his research into gender roles in intramural sports. It has videos of some IM flag football games. When I looked at them this morning I thought, these have no value to anyone any more. I deleted a couple, then noticed the date: November 10. Aiee!
Now I'm not sure – still, after all this time! – that I should be deleting anything. Then, when I went to crop the photo, I noticed that the dates were 2014. You probably can't tell on this tiny photo but they're all October and November 2014. Oh well. I haven't heard from his thesis advisor since about six months after Zach's death. He was going through some pretty serious changes then. I'm going to go ahead and delete them.
It's even possible that I already sent this stuff to Alex and I don't even remember doing it.
The only other thing of interest is Zach's account name. He actually made two of them, both named Tom Brady with emails of woodrowreasearch and woodrowreasearch1@gmail.com. I haven't tried to get into those accounts. I spent a lot of time in the first year going through Zach's real emails and cleaning up things there. Whatever is in that inbox is way out of date. If someone else knows how to get into it and finds something of value, please let me know.
Or not.
Day 55.