Jeremy and Ashley had rented a nice house in North Bend months ago as a place to land in Washington. It was there for them when they flew out on June 20th and they were still there on Thursday afternoon the 29th when I pulled that ungainly rig up in front of it. Jane had flown up earlier in the week and Joe and the boys had driven up. They were all there. Before long, Rosalie had me out across the street to the little park there. Actually, it wasn't so little. It had a group picnic area and two play areas next to a rather large pond surrounded by trees. Here's Rosalie beseeching the ducks to come back and play: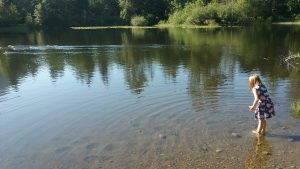 Here's the merry-go-round: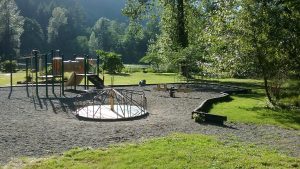 Jane and her family left Friday for points south and home. We got in the car and headed north to Duvall, where we met with the landlord at the new house. They signed a two year lease. The neighborhood was very nice. The houses were newish, about 1980's vintage, but many of the (presumably) original trees had been saved so there were tall firs and cedars all around. All the houses were well kept up.
Saturday was moving day. Jeremy took the truck, I took the Forester, still loaded with things from Georgia, and Ashley followed in the Murano after doing last minute clean up at the rental house in North Bend.
We got the truck situated in front of the house with the trailer off by around 10:30. Most of the unloading was done by 1:30 and the truck was off the lawn by 2:30. Rosalie had had a chance the day before to select which bedroom would be hers. It didn't take long on Saturday for her to establish herself there.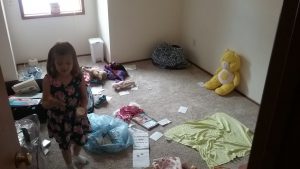 Her new bed came not long after I took this picture. It went where the yellow bear is sitting.
Here are some earlier and later pictures of the inside of the truck: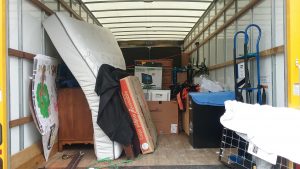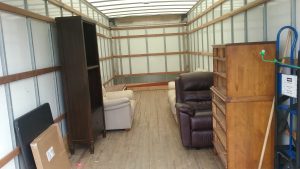 That evening we went out to dinner in Carnation, which is the next town south of Duvall.
The next day, Sunday, I had volunteered to take the truck back to Yakima. Jeremy had done this as it was about $1,000 cheaper than dropping it somewhere closer in the Seattle area. That was another 145 miles in the truck and the same in the Forester coming home. 7:15 am to 2 pm.
Here's a last look at the combo at the rest stop outside of Yakima. Mt Rainier is in the background. I thought I had Mt. Adams too but I couldn't see the phone viewfinder very well in the bright sun light. It's either just out of the frame or behind the sign, honest!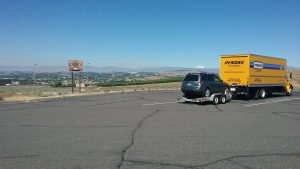 Jeremy and Ashley had lots of shopping to do so I said I would stay with Rosalie after I got back until they were done. They had to go to Monroe and Redmond and some other places with big box stores. After a nap and a snack with Rosalie, I got to play tea party and dress up for about three hours. They finally got home about 7:30!
Monday we didn't do much except work on putting the house in order. I got in touch with my friends from Bellingham, Teresa and Susan. I wasn't willing to go that far, but Susan had a spot in Oso, only about an hour from Duvall, that she went to on weekends in the summer. It floods every winter but there's a spot for her Airstream 100 feet or so from the Stillaguamish River. In the end, Teresa couldn't make it so I sat with Susan by the river for a couple of hours in the afternoon and chatted while the dogs occasionally chased toys into the river. Before going to Susan's place, I had gone up to the site of the mountain collapse and paid my respects to the lost lives. The county has purchased the land and will eventually make a memorial park there. Now there are just 43 newly planted trees in rows by the road.
When I returned, much had been done in contacting the neighbors. We got invited to a 4th of July barbeque. Rosalie had discovered that the girl next door was just a few months older than her. They weren't instant pals but it didn't take long before they were chasing around together.
Tuesday all Rosalie could talk about was wearing her new swimsuit to the party and going in the pool. Finally the hour arrived and we went over. It was very nice and we met lots of new neighbors. Jeremy had to leave early as he was going to Portland for a basketball referees workshop. Before he left, we went home and lit a couple of sparklers. Rosalie wasn't sure about them at first.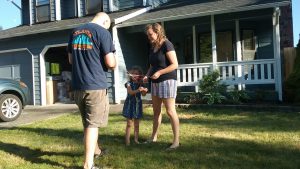 That night the explosions started well before dark, around 9:30, and continued without letup – literally with out so much as 15 or 20 seconds silence – until at least 11 pm, when my sleeping pills took hold. At least two different skyrocket shows could be seen out the back window of the house that were no more than a couple of hundred yards away.
Wednesday I went into Carnation to do laundry. The washer and dryer that Ashley and Jeremy had bought on Sunday wasn't going to be delivered until the following Sunday and I was out of clean underwear. (It did come today and Ashley was on her 4th load when I talked to them earlier tonight.) Rosalie played a lot with Emma, the girl next door.
Thursday, Ashley took me to Snoqualmie Falls, about a half hour up the valley from Duvall. It's a pretty falls but also a hydroelectric power generating facility. We waked the trail to the bottom and checked it out from there as well.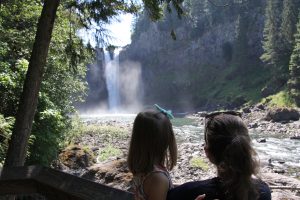 Friday we went to McCormick Park, which is a little city park right off the main drag in Duvall and right on the river. This was maybe ten minutes from their house. There was a nice sandy beach to play on. Rosalie made mud pies (or something) and dabbled in the water looking at the little marine animals. Afterward we had lunch in a little cafe and got a library card at the library across the street. Rosalie took out three books.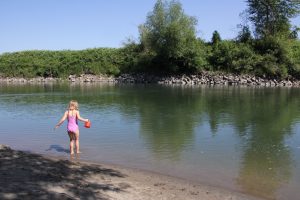 Saturday morning, Ashley took me to Sea-Tac and I came home. I had originally intended to come home on Amtrak or a bus but it would have been 24 to 26 hours en route vs 2 1/2 and the cost was comparable. In the end, it was about 12 hours short of two weeks. It was great!