A little over a year ago, I posted this story about Dave. Noah's Dad. This past week, Dave has been in California along with the rest of his family. A group of us met in Lake Tahoe over the weekend for a couple of days of camping and fellowship. They've been down in the Bay Area since Sunday and left this morning.
They culminated their visit last night by coming down to Mom and Dad's house in Santa Clara. They were flying out of San Jose and stayed overnight there. An even dozen of us had a very nice dinner on the patio. The kids played with the toys Mom keeps there, they went over to the park and played in the sand, and they picked lemons off the tree in the backyard and made lemonade for everyone.
During all this activity, Dave was just being Dad: carrying Myles on his shoulders, playing airplanes with Myles, talking with Noah about this thing or that that we were seeing. Just like his comment from 2 1/2 years ago, Dave was always calm and engaged with his children.
I don't want to imply that Ally was absent in childcare duties. She was not. She did plenty of carrying and playing too. She's a stay at home Mom now and I think she appreciated having a little break. I'm sure having Zach's family around her for most of a week had some special stresses. Whether Dave is like this all the time or if he recognized those stresses doesn't really matter. He was a great Dad this week. I'm pretty sure he's a great Dad back home too. Yay Dave!
Language can be weird sometimes. I think I am Noah's grandfather despite having no legal status as such. He has two more back in Ohio. Ally is the mother of this grandson but is not, nor was she ever, my daughter-in-law. Dave is just Noah's Dad. Whatever else we call ourselves, I am proud to call these people 'family'.
EDIT: Ally posted this photo on Facebook and I filched it. Maybe not so special in and of itself, but to me emblematic of Dave.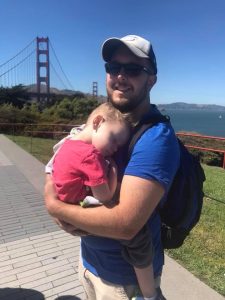 And just to be fair, here's one of Ally at our Lake Tahoe campsite: