Zach would 'pose' for photos in scenic locations usually by assuming a mock amazed look often with his arms stretched out. The picture on the front page of this blog is a perfect example. In this one he doesn't have his arms stretched out but it is one of my favorites from his last visit to California in 2014.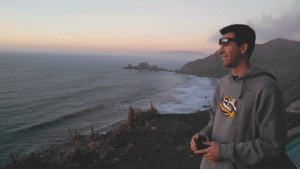 I wanted to take Noah's family to Devil's Slide not because I wanted to stage a similar photo but just because it's an awesome place. Actually, although I had my camera, I wasn't even thinking about it.
Then I saw Noah standing in the exact same place. OMG! I had to scramble to get my camera out. Noah doesn't stay in any one place for very long. He wasn't looking out to sea, but reading the sign there. About five seconds after I snapped this, he bolted to something else.