This came in my email today:
**I apologize if you're receiving this message through more than one channel. In an effort to reach a lot of people, I'm sending it to as many contacts on Facebook and email as I can think of. I'm sorry if I accidentally doubled up and spammed you.**
Dear family and friends,
I hope this finds you all well. I first and foremost want to thank all of you who have reached out to my family and I to offer support and condolences in the year since we lost our beloved brother, son, uncle, cousin and friend Zach. I'm deeply appreciative for all those who've been able to offer support through their own grief. I'm continually amazed at the impact of Zach's life on so many disparate people.
I'm writing to let you know of a project that's been in the works for a long time, and am happy to announce it's finally happening. As most of you know, Zach was a camp counselor at YMCA Camp Greenville in North Carolina for one summer; while the demands of school and life precluded him from returning to work there, the experience impacted him profoundly and he often spoke warmly of his memories there. Last fall, one of Camp Greenville's backcountry camping shelters was destroyed by a falling tree. With the invaluable assistance of longtime camp director Greg McKee, we've arranged to "pick up the slack for Zach" by holding a service weekend at camp in Zach's memory, with the primary goal of rebuilding the shelter and renaming it "Zeke's and Zach's" (the original name of the shelter was Zeke's Place).
The project will take place the weekend of 
May 5th through 7th
 (
Friday
–
Sunday
) at Camp Greenville. The very tentative schedule is to rendezvous at camp 
Friday
 night, work all day 
Saturday
 and hold a remembrance chapel at sunrise 
Sunday
 morning at the Pretty Place chapel before we part. We will stay in cabins at camp 
on Friday
 and 
Saturday
 nights.
I live in Atlanta, and will coordinate travel from there to camp and back for as many people as necessary. Likewise, we will do everything we can to accommodate folks who come from out of town and need a place to stay for an extra night.
I understand that the travel will be untenable for many of you. If you would like to help but cannot make it that weekend, we also need to raise approximately $2,000 for the building materials for the project. Any extra money we raise will be donated to camp's scholarship fund in Zach's name.
Please let me know as soon as possible if you will be able to come, or if you'd like to help with a donation. I very much look forward to remembering Zach for a weekend with you. Please contact me at 
(404)895-5325
 or 
jeremy.wood.820@gmail.com
. Also, please forward this message to anyone who I don't know who would like to participate in Zach's memory.
Much love,
Jeremy Wood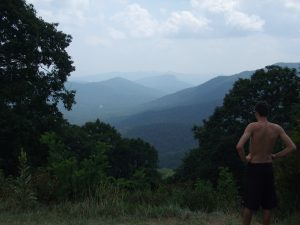 (not Pretty Place but in the Smokies – 2008)