Very high on Mary's list of things she wanted to do was to see the German saxophone group Sistergold. Wilfried had helped her to contact them and got tickets for thier concert in a little town called Homberg.
Homberg is about a three hour drive north of Baden Baden, where we were at about 3:30 Saturday afternoon. Wilfried had taken us to a tour of the Baden Baden Festspielhaus (Opera House). It was supposed to be only 75 minutes but it had dragged on and at the end there was a little scene with a man who had had to go to the rest room and lost track of the rest of the group. He was pissed that he'd gotten left and was having it out with the tour guide. The rest of us were left standing around in the lobby. Wilfried took action and started trying doors to get us out. This succeeded and we were off.
We were originally hoping to get to Homberg in time for dinner but that was going a-glimmering. Luckily, Wilfried had had the foresight to bring some rolls and sausages which we ate at a rest stop. In the end, we got to Homberg in time to get settled in our hotel and arrive at the Stadthalle by around 7:30. Dinner would have to wait.
We had a glass of wine while the audience filled in. The Stadthalle was small, like a jr high school MP room. There was a stage. We were seated on plastic chairs around tables with little decorations. Pretty small time, but everyone was nice. Beer and wine and snacks were for sale. Maybe 100 in attendance.
Here's a view out back of the Stadthalle. The Ohm River is actually beneath the line of trees in the foreground.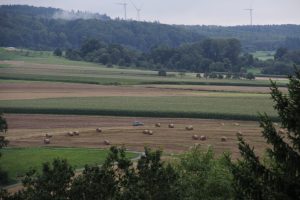 Sistergold is 4 women playing soprano, alto, tenor and baritone saxophones. They started the concert by walking in from the back of the hall. They played jazz, funk, classical, and pop styles with little dance moves and good audience engagement. They were great! They did three encores and didn't stop until a quarter to 11 (8 o'clock start).
Afterwards, they came out to talk and sign autographs (and sell CDs) and Mary jumped in. Three of the four spoke English pretty well. They chatted with us for a good half an hour. Towards the end, the people who ran the building were trying to close up. We took a picture and reluctantly said good night.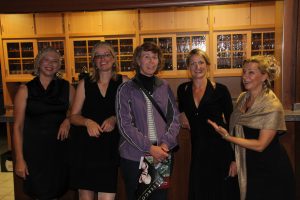 Then it was, what are we going to do for dinner? It was nearly 11:30. Wilfried asked some locals what was likely to be open for dinner that late in town and was met by blank looks. Hmmm.
We cruised the town. There was something like a night club open but no food. We stopped at a gas station. The attendant there was closing but suggested fast food at the autobahn about 5 miles away. Failing that (we all said no), perhaps Marburg. Thirty minutes away.
Wilfried set out following his GPS (I guess, I was in the back seat, resigned to my fate). Along country roads and through villages in the darkness we went. Suddenly there was a blast of light. An American '50's style diner in the middle of the German countryside! What? About 50 neon signs and the front end of a '57 Buick with its headlights on adorned the front. Best of all, the kitchen was still open!
We had burgers and fries. I had a Corona (with lime). It was great! We got back to the hotel at 1:30. Wilfried's key didn't work and he had to break the door open. No one with the hotel was awake.
Mary is going to try to figure out how to bring Sistergold to the US. They are willing but won't do it for free so she has some fundraising to do.