Sepi and I got over to Spokane last week from Jeremy and Ashley's in Duvall. We visited my cousins Dan and Nettie and my old friends Peter and Nanci. Sepi bonded with both women to the extent that there were times when I thought I was invisible. I was just as happy to stay out of the kitchen where they seemed to spend most of their time.
Peter's friend Charlie restored a 1938 Chevrolet pickup truck that belonged to Peter and drove it up to Spokane last year. We guys decided to get it out and give it a spin.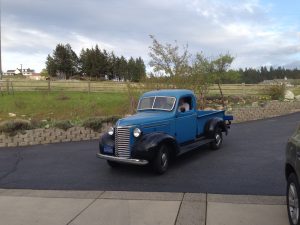 It hadn't been driven since last summer. Charlie had called earlier in the day and coached me through a couple of things I needed to know to drive it. He couldn't have know that it was out of gas, though. In the end, Nanci had to go down to the local gas station to fill up their gas can, get it into the truck's tank and then pour a cupful of gas directly into the carburetor as I cranked it. Thanks to Sepi's brother Ike for generous advice over the phone that led to the cupful of gas solution.
Peter was very happy. In this picture I am still clenching from the 5 minute ride we are here just returning from. The truck is a very different beast from what I've gotten used to.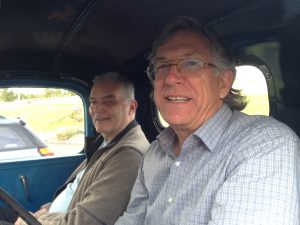 On Thursday I walked to the Japanese Garden at Manito Park with Dan where the azaleas were blooming. It's a beautiful spot . . .