It's been a hectic month. Almost six weeks, in fact, since I was offered the Symphony stage manager job. Incredibly, I officially started less than a week later. Partly because of that accelerated schedule, I had leftover commitments to JJ so I worked several nights and weekends for him after that.
At the Symphony, during the regular work week, I had personnel issues, new computers, new computer systems, new (to me) software. I had to plan for six orchestra moves in the first ten days of the season. Almost like being on tour!
I haven't toured with the Symphony yet so that's a little cheeky to say. At least I'll be sleeping in my own bed each night.
Speaking of bed, I slept in this morning, seemingly for the first time in weeks. As I was waking up, I saw this view: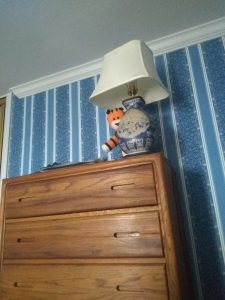 For months I had kept Hobbes in a box, along with many other personal things that there just wasn't room for in the new house. One day a couple of months ago I happened to see him and thought that this little spot behind the lamp would be good for him. To be completely honest, I hadn't noticed him or thought about him very much but today I did.
I have thought of Zach a lot during this past month of stress. He would have given me valuable insight into strategies for organizations and people. I've been thinking of the 4th anniversary of his death upcoming this fall. That seems important because it is supposedly the end of the statute of limitations on criminal charges surrounding his death. For a long time I wanted to beat on the Baton Rouge DA to reopen the case and charge Shawn Allen with vehicular manslaughter. Or something more than speeding. Or implicate the other driver, who I believe was complicit in the whole thing and got away with nothing. This post tells more about my feelings.
Anyway, I think I've let go of the whole idea. As I've said before, nothing will bring Zach back and the Baton Rouge authorities are not interested. My plate is full with this new job so I'll just go on hoping Mr Allen still has nightmares and try to think of good things.