It's interesting to read the generally upbeat tone of the last post from the perspective of a few days later. I had left the larger group to their activities and went off by myself, first (after breakfast) heading over to Zephyr Point where Nancy had had the bench installed. I suppose I was technically trespassing as I was not a guest there. No one challenged me and I did not stay long. I was well familiar with the conference center layout and went right to it.
It's a lovely spot and a lovely bench. The day was the best that Tahoe could offer: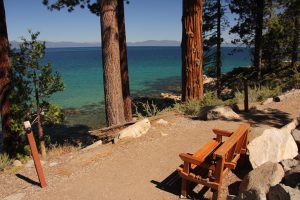 I drove on up the east side to Incline Village, got some lunch and headed down the hill to the Kents in Grass Valley, where I spent a good couple of hours just talking. Then to my brother Tom's, where the foothill Woods were gathering.
That was very nice. I especially enjoyed watching the cousins play together. We stayed the night at Tom's and got up early the next day to have breakfast with our former neighbor Patsy. Originally I wasn't going to go since Nancy was going to be there and I didn't want to harsh anyone's buzz. The children prevailed upon me and in the end it was fine. We were both on our best behavior. After breakfast, Emily & Linda loaded their stuff in my car and I took them back to SF to fly home.
All that went well. I felt pretty normal most of the time; no big weepies or anything. I knew I was going to need a nap when I got home. Both nights away had been really short. So the three hour nap Sunday afternoon didn't surprise me but going to bed again at 8:30 and sleeping to 6 am did. Then Monday morning after I did laundry, I was really tired again and had to lay down some more. I had driven 625 miles by myself from Friday at noon to Sunday at noon with a total of 8 hours sleep.
Jeremy was coming back from Grass Valley and Teresa had a big dinner planned but I was logy the whole afternoon. Finally after they called to say they were there at Teresa's, I walked over without enthusiasm.
Before I even got in the front door, I was hit with a 3 1/2 year old lightning bolt named Rosalie who doesn't do sadness. So that was good. We had a wonderful evening. Rosalie wanted to go to the beach and Ashley wanted to go to the pier to look for whales again. Luckily, there is beach near the pier. The whales were still putting on a show and Rosalie played in the sand and watched the birds and fisherfolk. Then we came back and ate and visited some more.
The next morning we saw the Georgia folks off to the airport from Teresa's. Jane took them in her van. We got one last photo then I headed home for more laundry and cleaning up. Nancy had wanted the oak box that held Zach's ashes for these last few months so it was gone.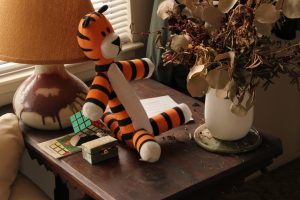 I put Hobbes in my bedroom next to Poochie and took the dead flowers out to Rose's little Zach garden and laid them there.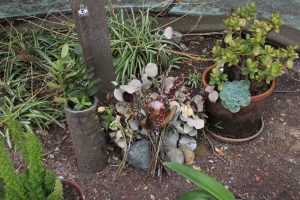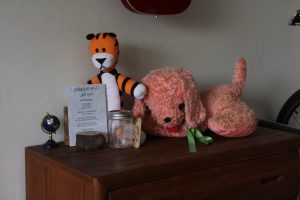 I don't feel sadness so much as I'm just really tired. I'm going back to work today so we'll see how that goes. I had agreed to work on Friday which would have made four straight long days working. The thought of that was making me weak so I bailed out of that one. Hopefully I can keep it together for today and tomorrow and recover on Friday.