We watched a movie last night.
This is not about the movie.
I watched the credits, as I always do, and saw a name from Zach's past. The character was a minor one – really just a cameo – so I really didn't remember what he looked like. The movie was from 2014 and I hadn't seen James since about 20 years ago when he and Zach were in rec league basketball together. They were pals at 12 years old but it didn't last into high school.
Still, it was a good memory. The basketball team had their moments but they weren't overpowering. They went into the championship tournament hoping to win one game but things started working for them and they got to the championship game against the hot shots.
It seemed like there was always one team in rec league that was put together by an ambitious dad who thought his kid was NBA material. Typically they steamrolled everyone else. It always pissed me off when they ran the score up against gawky kids who didn't spend every free moment practicing basketball.
These were the guys Zach and James' team were playing for the championship. I don't remember it well enough to narrate the details but I remember that they played smart and tough against the hot shots. James' dad was not the official coach but he was a savvy basketball guy who participated in the huddles and helped the kids believe in themselves. Jeremy was there too, providing support.
Well, they won, and were joyous.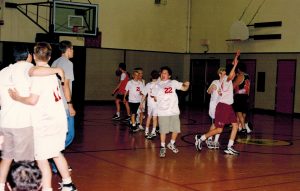 In the big picture it would seem meaningless but our personalities are built from many small things. It was a fun moment. Rec league basketball was usually so frustrating. Zach was tall but not the tallest on the team. Soon after this, he really started growing and went on to play on high school and college basketball teams.
The actor turned out to have been born in 1965. Not even close!
Here are James and Zach in their championship shirts: