Two weeks ago today my alarm went off at 3:30 in the morning. I had a 6 am flight to Atlanta. From Seattle, Jeremy was doing something similar. He got there first and got his car out of long term parking and was waiting for me when I came out of the terminal. It was about 4 pm local time.
We stopped for a bite to eat, then went to the Home Depot where the Penske 26′ bobtail and trailer were waiting for us. The trailer was for his Subaru SUV. It took about an hour to do all the paperwork and get instruction on how to hook up and get the car onto the trailer. Jeremy had gotten a TB test in connection with one of his volunteer fireman gigs and had to get it read within a 48 to 72 hour period. Basically, now, so he headed to the clinic and I head to his house with the truck. Rather gingerly.
At his house we fell to it. The truck wouldn't go up the driveway so everything had to be carried down the hill to the street. Early on, I asked if he had any rope to secure the load. The answer was no so I had a trip to Home Depot at 8 pm on a Sunday night. We kept plugging away and at half past midnight we were close enough to call it and go to bed. The beds were the last things remaining.
Originally, Jeremy had wanted to leave his house at 4:30 to avoid Atlanta morning traffic. I told him we had at least another hour of work to do before leaving so at midnight he consented to getting up at 4:30 with the goal of leaving by 5:30. I had suggested we push on and get out of town and stop somewhere a couple of hours past Atlanta but he wanted the rest first.
In the morning there were a myriad of little things, and then there was lining up the truck ball with the trailer. The trailer weighed almost 2000 pounds (without the car!) so picking it up and rolling it to the truck was not an option.
Finally, we were ready. I took a picture of the rig at 6:45 and we headed out.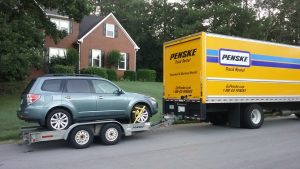 The clinic had been closed the night before so Jeremy had to find another one right away. He also had his Comcast modem to return. He had looked up ahead of time and found that there was a Comcast store near the freeway in Murfreesboro Tennessee. We got there about 11 am. I had found a clinic close by to the store so that was good but they had to be talked into doing what Jeremy needed. Once I saw that it was going to be difficult, I bailed and got some lunch. Jeremy was in there at least a half hour for a test reading that took ten seconds. Paperwork. Turning in the modem was not a problem and we were off again by noon.
I had vaguely remembered seeing something the day before about the maximum speed with the trailer being 55 mph but I couldn't find it in the cab. Eventually, I pushed it up to 65 on the Interstate and felt pretty secure. We were still passed by lots of big trucks. When Jeremy took over he got it up to 70 and passed a couple himself. After the trip was over, I was unloading the car and saw the notice on the trailer: 55 mph maximum speed. Oh well. Once I got used to it, the whole setup seemed very stable. The roads were generally good. Through Tennessee and Kentucky we mostly kept it at 70. Slower up the hills.
The weather was perfect. Sunday night loading the truck I soaked my T-shirt with sweat but it was warm enough that I didn't worry about getting a chill. Monday was sunny and pleasantly warm with a few wispy clouds.
Google had us routed up through Paducah and thence to I-64, then west through St Louis joining I-70 there. At the rate we were going, I saw that we would go through St. Louis at rush hour. We actually used a combination of Google maps and Jeremy's trusty 2002 Road Atlas for navigation. I found a highway, US 60, that led west out of Paducah straight over to Missouri via Cairo, IL. Looking at it now, I don't see why we didn't take US 62 which covers essentially the same route through Kentucky in less time.
Whatever. We crossed first the Ohio River, then about two minutes later the Mississippi River on high, two lane bridges. I think we were technically in Cairo for those two minutes but we saw nothing of the town. I took videos of the crossing complete with enthusiastic narration. Jeremy, who was driving, later told me he thought his blood pressure was at about 200 during those crossings. That was about 4 pm, now Central Time.
We eventually stopped for a real dinner in Arnold, MO, still short of St Louis, at around 7, so the issue of traffic was moot. Our goal was Kansas City and we made it around midnight. Actually, we went through KC, MO into Kansas and stayed in a motel on the west side. Here's a map of our first day. 843 miles and 18 hours on the road. Whew!
Tuesday morning we were out getting gas (diesel) at 8:30. West on the Kansas Turnpike. Our goal this day was the home of Jeremy's cousin, Suzanne, and her partner, Greg, in Avon, CO. Per Google maps, a mere 688 miles. We made good time across Kansas but unfortunately couldn't avoid Denver at rush hour.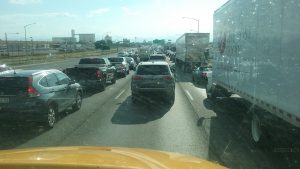 This was about 6 pm local time, now Mountain of course. Jeremy was at the wheel and pushed on up into the mountains.  We found that the Colorado I-70 grades were much steeper than the ones in Tennessee. In some cases, we could only go 35 mph with the accelerator floored. The final pass was of course much higher too. I've got a crappy picture of the sign: Vail Pass summit, elevation 10,662 feet!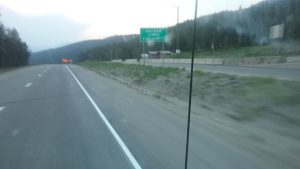 Going down was an adventure, dropping into lower gears to slow the truck, and watching apprehensively the runaway truck ramps.
The weather was holding. We saw some rain and lightning in the distance approaching Denver but only a few drops fell on us. Every night we saw spectacular sunsets. Here's a map of our second day. 693 miles in 13 hours.
Suzanne was on duty in Vail, so we ate a late dinner with Greg and chatted before going to bed. We had gotten to Avon at 8:30. In the morning, we headed back up to Vail – about 6 or 7 miles back up the mountain – to see Suzanne. She is an EMT and the shifts are 48 hours. Anyway, we had a brief visit with her at her station in Vail and we got back on the road about 9:30 am.
A couple of hours later, I was merrily getting settled after fueling up in Grand Junction when I saw a state patrol car along side of me with his lights on. I pulled over, expecting a lecture – or a ticket – for going too fast with that rig. Instead, the very young Trooper Pritchett (he gave me a card when we were done) wanted to tell us one of the straps had come off the car wheels. He helped us get it fixed and in ten minutes or so we were on our way again.
Unfortunately, our timing around big cities was again poor. We came into the Salt Lake City area around 5 pm and suffered through the slowdowns there. The Wasatch Mountains behind the city in the westering sun were beautiful, though. Around 7, Jeremy found a Mongolian 'Bar-B-Q' place a couple of miles off the freeway in Ogden so we stopped there for dinner. Here is where we were parked: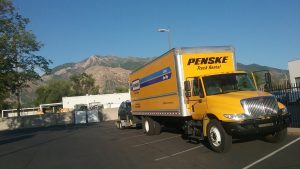 At dinner we discussed stopping earlier for that night so we settled on Twin Falls, ID as an objective. We figured we could get there by 10 but in reality it was more like 11 and there were no rooms available there.
We pressed on, Jeremy still driving since Ogden but determined. My efforts at securing a place to sleep kept failing. There wasn't much between Twin Falls and Boise. I did have Internet access on my phone along the highway. I was thankful for that. Finally I made a reservation for a motel in Boise. We pulled in about 1 am and had to park a couple of blocks away. In the lobby, though, my name wasn't on the manager's list. I had talked to an operator for Super 8 motels and she hadn't understood that I wanted a room for right now. It was confusing because by then it had already passed midnight. The Super 8 guy told us there were other motels nearby that likely had rooms. I called one who confirmed that and I said, 'We'll be right over!'
We parked in an office building lot. I figured that we were going to be gone before anyone showed up to work in the morning. We hauled our tired bodies out of bed and into the truck by 7 am. Destination: North Bend, WA, the end of the road! Belatedly, I had thought of potential problems with morning rush hour traffic in Boise but most of the slow downs were going the other way. Phew!
Here's a map of our third day. 763 miles in 16 hours.
By now, everything was started to blur. I guess it was the country north out of Ogden that I thought was pretty: wheat fields in the evening sun. Or maybe it was the country west and north of Boise on up into Oregon. I remember crossing the Columbia River around 1 pm. I remember the Yakima River valley starting around Prosser with its beautiful vineyards and orchards.
This picture is from Oregon. It shows how our rig was almost as long as the guys towing the 53 footers.: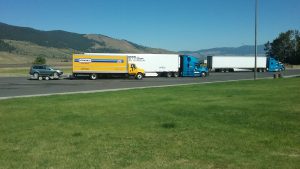 While eating lunch in Prosser, I convinced Jeremy that we should take the car off the trailer so he could go ahead so as not to be late for his training class. Originally, he had set 3 pm as a time to be in North Bend. His class was at 5 but he wanted time to clean up and eat. It was becoming clear that the truck wouldn't get there until 4 at the earliest. We had the grades of Snoqualmie Pass coming up. At Ellensburg, we pulled off the highway, did that, and he went off in the car.
I got to their rental house in North Bend as predicted, about 4. Rosalie came running out to give me a big hug and Jame and her family were all there with Ashley too. Jeremy had gotten there about a half hour earlier and was ready to leave in his clean clothes.
Here's a map of our fourth day. 475 miles in 9 1/2 hours. Actual miles driven start to finish using the truck odometer were 2,858. I'll leave it to you to do any averaging arithmetic. It was a fast trip. Jeremy and I had some good talks. He had some Bill Simmons podcasts that he & I listened to. I tried to write in my journal but eventually gave up as it was too bouncy. I took a few pictures with my phone. Good times.
I'll put up another post about moving into the new house and other activities in Washington.