Where was I? OK. Friday morning. We left the stone cutter's and headed back out 44th Avenue to Mt. Olivet Cemetery. 44th runs parallel to I-70m that we had seen backed up earlier and the traffic coming towards us was solid for two miles. At 11:30 in the morning!
Dad wanted to confirm his burial arrangements at Mt. Olivet. There is a large stone there with several Wood's buried there. Mom and Dad have decided that they want to be buried there.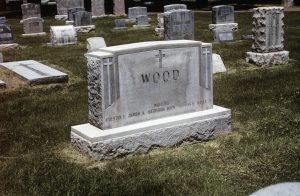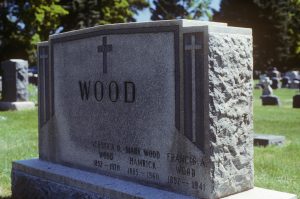 It's a little hard to see in the second photo but there is space for two names on the far end. How exactly to fit Mom and Dad's names there is what we discussed with the stone cutter.
After Mt. Olivet, Dad wanted to see the Thaler house on Vrain. Patty is living there but has not been well so we only drove by. There are huge duplexes on both sides of that little house now! Who allowed that zoning variance?
Mom and Dad wanted to get together with Dad's high school friend Ginger. (Urrk, can't remember her last name!) After some negotiating, we agreed to pick her up at her house and go out to lunch. This is where Dad got the freeway exit right and I didn't. We were a little early until the detour . . .
After a nice lunch and visit I asked Dad if we could drive by the house he grew up in. 'Grandma Flynn's house.' He wasn't wild about the idea but I persisted. It was pretty much right on the way back to the hotel, assuming we didn't go on the freeway, which I didn't want to do. It was around 3:30 by now on a Friday.
So we worked our way through Denver city streets until we came to the house on 1st Avenue. There was a parking space right across the street so I pulled in and told Mom and Dad I just wanted to take a good look and a couple of pictures. This I did but as I was getting ready to leave a woman and a boy came riding up on bicycles and she went up to the side of the house to put away her bike. I thought she might have seen me snooping around so I thought I would explain myself. She turned out to be thrilled that we had a connection to the house. She and her husband had lived there since 1993. She insisted that Dad come out of the car and invited us in to look around. I didn't remember the inside at all but of course Dad did and so did Mom. They declined the invitation to go upstairs.
After many thanks we said goodbye and continued back to the hotel.
The next day we had no plans beyond going to Tim Flynn's that evening. I looked up Lawson and found that it was only 35 minutes from our hotel. Lawson is where my great grandfather Thomas Bernard is buried. Mom and Dad declined the invitation to go there with me. I got going early and got to the cemetery around 8:30 am. It was considerably colder than Denver there at 8500 feet!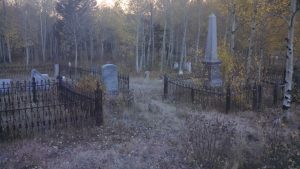 It's a pretty spot but I noticed the freeway noise (I-70) for the first time. Unrelenting.
I went on into Georgetown for a cup of hot chocolate and a muffin. The car helpfully told me the outside temperature was 36 degrees!
Back to the hotel for an afternoon of resting and watching football. At 5 we headed out for Tim's. Tim had moved back into the house he grew up in and recently finished remodeling that he wanted to share with the family. Tim and Debbie hosted us, Patty Thaler, Jackie and her husband Dan and their sons Sean and Brian, Michelle and her husband Steve, Mary Helen and her daughter Melissa and her husband Silvio. We all toured the house and had a fine time sitting around chatting. Patty has a very serious lung problem so had a tank of oxygen with her at all times. We aren't what I would call close to our Denver relatives but we always enjoy each other when we get together.
Jackie and Patty had invited us to join them Sunday morning at their church. I was ready to go but Dad nixed the idea in the morning. Actually, he nixed just about every idea Mom and I came up with for how to spend the day. Finally he agreed to go see a movie so we went to see 'Sully'. After that we went to the Denver Museum of Nature and Science. We had lunch there first but when we finished at 3:30, Dad didn't want to go into the museum. He was anxious to be at the airport. For a 9 pm flight.
OK, let's go. Before heading to the airport, I did drive slowly through City Park, where the museum is located. On our way out we passed an imposing building that Dad said was Denver East High School and that he had attended there one summer for a class that St Francis didn't have. Well, that's cool!
From there I spotted the dome of the Capitol building so I drove down by there and then through the downtown area. I sort of half heartedly looked for Union Station but failed. I guess I was ready to go home too. Going to the airport, I drove through city streets again just to look around. The day was lovely but taking a walk was not in the cards.
We got to the Avis place at 4:45, dropped off the car with no hassle, got through ticketing and security and to the gate by 6:30. Once on the plane, there was a delay for reasons never explained. We left about 20 minutes late. Arrived SFO 11:15, got back to pick up Mom and Dad with the car at midnight, got to Santa Clara about 12:40, turned right around and headed home in my car, arrived in Pacifica at 1:30 and couldn't sleep. Urrr. Ibuprofen to the rescue. Attained sleep about 2:30 but had to get up at 6 for an 8 am call at Davies which lasted until 2 am.
But that's another story.