Continuing my narrative of my Germany trip.
Tuesday afternoon, after viewing the river from the Burg Landshut, we decided to go on a cruise. This was a good example of 'the plan . . . there is no plan'. We had intended to have something to eat at the castle but all the inside tables were taken and there was no service at the outside tables because they were all still wet from the rain. Indeed, it was still rather threatening weather.
So we drove back into town and booked a river cruise. This was a one-way trip from Bernkastel down the river to Traben-Trarbach. Wilfried would drive to Traben-Trarbach and pick us up. What service!
As the crow flies, these two towns are less than three miles apart. Following the river, they are about 14 miles apart.
So we set off on the cruise ship, Nikolaus Cusanus: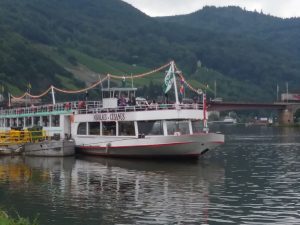 We passed Graach, where we had had dinner Sunday night. Wehlen, Zeltingen, where we went through a lock along with a coal barge. We passed under the incomplete autobahn bridge towering 150 meters over our heads.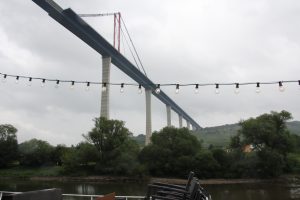 We passed Ürzig and Erden. Erden is the home of the Erdener Treppchen vineyards. Treppchen means little steps and there is indeed a long set of steps going up the steep hillside there.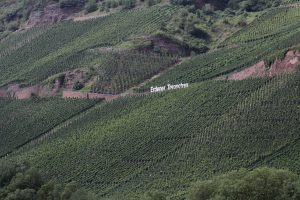 For the entire 14 miles, there wasn't a single south-facing hillside without vines.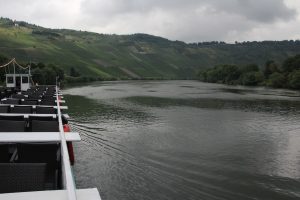 The day wasn't as spectacular as Sunday had been, but it was still fun. At Traben-Trarbach, Wilfried was waiting for us. We contemplated going to the Buddha Museum, but lunch was more important. It was after 4 o'clock.