Jeremy, Ashley, Rosalie & Emily all arrived safely in the Bay Area yesterday and we had a lovely day. At this moment, they are in Santa Clara preparing for their drive to Lake Tahoe.
That's the short version. Now for a longer version.
Sarah came and stayed with me Wednesday night. Jeremy's family arrived at SFO about 9:30 and Sarah went to pick them up. They got to the apartment & had been there less than 15 minutes when I got the text from Emily that she had landed. Ashley went with me to pick her up at the airport. It was Emily's first time in California. The San Francisco fog was doing its summer thing: sunny and warm, if a little breezy, at the airport, cool and cloudy at the coast. I was amused to see all the Easterners in T-shirts and shorts. They were amused to see me in my long-sleeved shirt and jeans.
After some lunch, we headed out to Devil's Slide trail and Zach's rock. We were joined there by Teresa and Paul, and Joe and the boys. Jane was already in Santa Clara preparing.
It developed that Zach's rock was less interesting than whales. What I hadn't realized was that Joe had guaranteed Ashley a whale sighting and she was determined to hold him to it. Although we could see a couple of whale watching boats not far offshore, we saw no whale activity.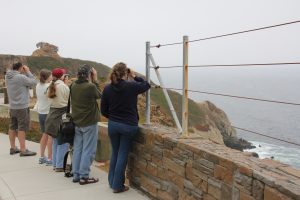 After 20 minutes or so of that, Joe got in his car and went down to Half Moon Bay where he spotted some and called us. There we hit the jackpot. First it was just seeing the back of the whale coming up for air but then suddenly one came charging up out of the water with its mouth wide open all only about 100 yards from where we were standing. Jeremy described Ashley as 'like a 12 year old at a Justin Bieber concert.' I have to admit it was spectacular. Joe said they were California Grays.
In the course of about 45 minutes of watching, we saw the breaching several more times. I was not quick or lucky enough to get a good picture. This picture gives you an idea of how close they were. About where the guy on the paddle board is.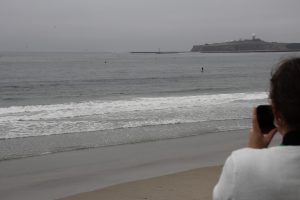 After that, everyone headed down to Santa Clara to Mom & Dad's. Rosalie went over to the park and played in the sand with Sarah.