I had to look it up. It was Christmas 2011. Zach had moved from Oregon to Louisiana the summer before. Sarah had started her doctorate program in Colorado. Jeremy and Ashley had moved into their own home. I was starting to get back on my feet after the economic disaster of 2008 and 2009.
I don't remember if I helped to finance, or if I suggested it, but with all five of us in one place at the same time, I wanted to get a nice picture of all of us. Ashley's brother Ryan had a nice camera and generously agreed to take some pictures. There are a bunch of good ones, but this is the one I picked today: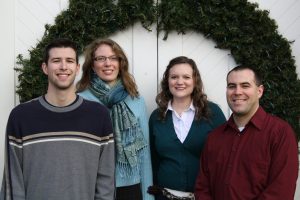 But back to tea. For a Christmas present, my children got together and gave me a teapot and some tea. I don't know why exactly. I had not been a tea drinker. I didn't (still don't) drink coffee. I had become a fan of caffeine over the years when I discovered it helped with my headaches but I had never thought about getting it via liquids.
OK, I have a teapot now. When I got home, I started trying out the teas that had come with the teapot. Eventually, I developed some knowledge of what I liked. The next year for Christmas, Zach sent me a huge assortment of teas. Here's my kitchen cabinet after they arrived: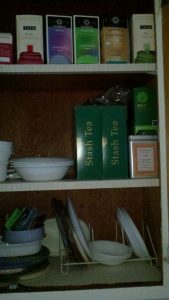 I've got some nice glass containers now but otherwise the cabinet looks much the same. I keep lots of different teas and drink whatever feels right at the moment. I have some loose leaf teas but use tea bags most of the time.
I thought of all of this last night when I was at the grocery store getting milk. I always go down the tea aisle, even when I have plenty of tea. I guess I look for stuff on sale. At this point I know what stores have what teas so there aren't many surprises.
What struck me last night was that the Stash tea was about the cheapest tea there. Stash was the brand of the assortment that Zach had sent me and I thought it was pretty good. It's an Oregon company so I thought there was some angle for him there. They have lots of teas so I was able to try lots of different flavors.
Today was Oolong. Thinking of you, Zach.