'A small bauble or miscellaneous item' says Wikipedia. Websters has 'knickknack, trinket'. The word always had a connotation to me of 'worthless except to one person'.
I did some cleaning in the garage the other day and unearthed a box filled with stuff that I had had on display on my apartment. There really isn't a place for it here but I brought the box up to look through carefully. It's mostly pictures in frames, which I am loath to get rid of. Sepi has lots of paintings, many of which are still in the garage, but paintings and guitars, not family pictures, are our principal wall adornments.
The other things in the box I would definitely call tschotsckes. A little clay wind chime that wouldn't survive being put out of doors here. Little souvenirs from Germany, Zanesville, Paraguay and other places: plates, ashtrays, trivets.
And some things that remind me of Zach: a button with the picture from his first year in Little League. A ceramic hand print labelled December 1991 when he would have just turned 3. A 'Panik 12′ button, referring to the Giants' second baseman Joe Panik, that was on his backpack. A ceramic 'Z' that Rosalie made a couple of years ago.
And something I picked up on the side of the street across from his house less than 36 hours after his death: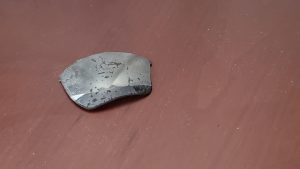 It's the lens from his sunglasses that he was wearing that day.
It caught me by surprise. I hadn't thought about it for a long time. I suppose I would see it occasionally on the table as I went in and out of my apartment. Realistically, I should just toss it. I've got all the pictures. I even went back and watched the video I made that day walking along the street with the cars zipping by only about ten feet from me at 40 or 50 miles an hour. In the video, I see the lens in the grass alongside the road and bend down to pick it up. I was not sure it was his, but it all hangs together and I choose to think that it was his.
The 'Z' is now up on my dresser where I will see it every day along with Hobbes. I will offer the hand print to other members of the family. The buttons . . .  I'll guess I'll ask if anyone else wants them. I don't expect anyone will. Jeremy might want the Panik button.